As folks may have seen in my recent thread
Suggestions for parts - 308 AR build
I decided to build a quality AR308 myself. Initially I was looking to buy a complete upper and lower as a way to get good components and save some dollars compared to a complete weapon. I had found a sweet Daniel Defense 308 that had all the features I wanted and was done in beautiful desert camo. But at near $3000 it was not happening. A good fellow at the gun store where I found that mentioned the upper/lower stuff from Aero Precision. My research into them backed up that they have quality stuff. Certainly not going to call things a bargain but at roughly half the price of the DD for similar features and respected quality I was interested. Shortly after that I found their February builder kit special that included only a stripped upper, lower and handguard. The thought of locating everything needed and assembling from scratch was a bit scary because I had not messed with installation of a barrel or gas system before. After more research it turns out this isn't rocket science and I decided to just go for it. Thanks to folks who helped me out in that prior thread.
Now that I've acquired all of the parts I went ahead and put everything together this weekend. Couldn't really have gone any smoother. I think it really helped that I stuck with most of the internal pieces from Aero. As you may or may not know, 308 AR rifles are not nearly as standardized as AR15s. There are several variations in basic style and multiple unique things per manufacturer within the styles. This is why sticking with mostly Aero stuff seemed wise. That, plus the quality.
So, at the end of the week I had amassed a large pile of parts: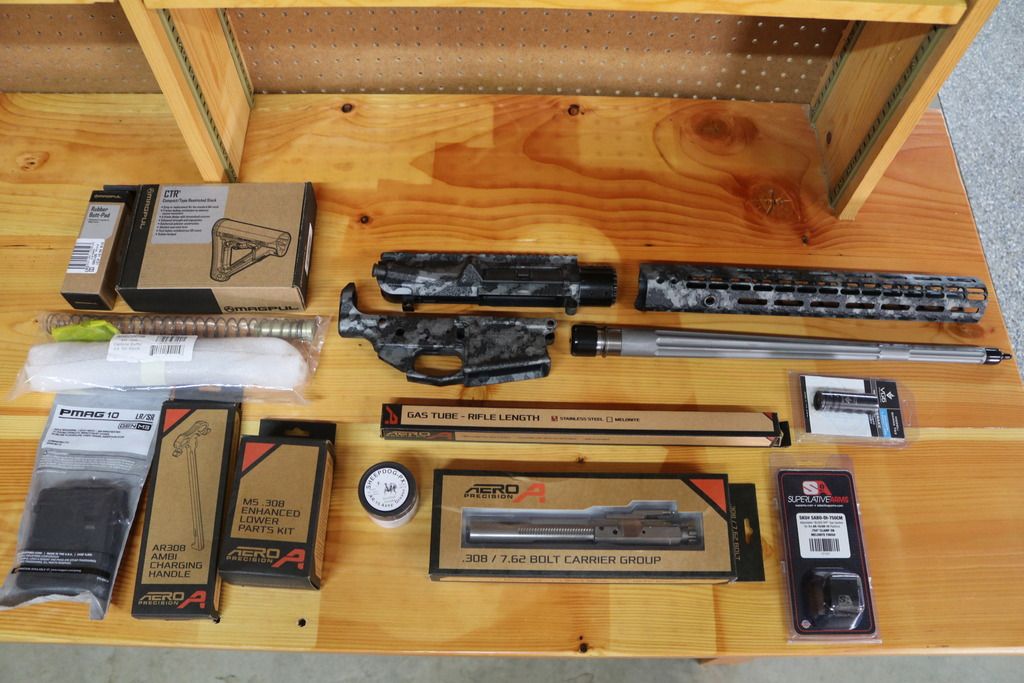 These parts included:
Aero upper/lower/handguard builder kit
Ballistic Advantage 308 18" stainless fluted barrel with rifle length gas system
Aero 308 bolt carrier group nickel boron coated
Aero ambi charging handle
Aero full lower parts kit with Magpul grip
Aero gas tube, stainless
Superlative Arms adjustable gas block
Precision Gamma VG6 muzzle device
Aero carbine buffer kit
Magpul CTR adjustable stock
Magpul mags
Aeroshell 33 grease
So I started with the upper and barrel. Clamped the upper in the vice and attached Aero's unique barrel nut at 65 ft-lbs after greasing the barrel extension and barrel nut threads. One of the unique features of Aero's enhanced M5E1 308 upper is that the attachment for the handguard is machined right into the upper. The barrel nut is male threaded and threads inside the handguard support area.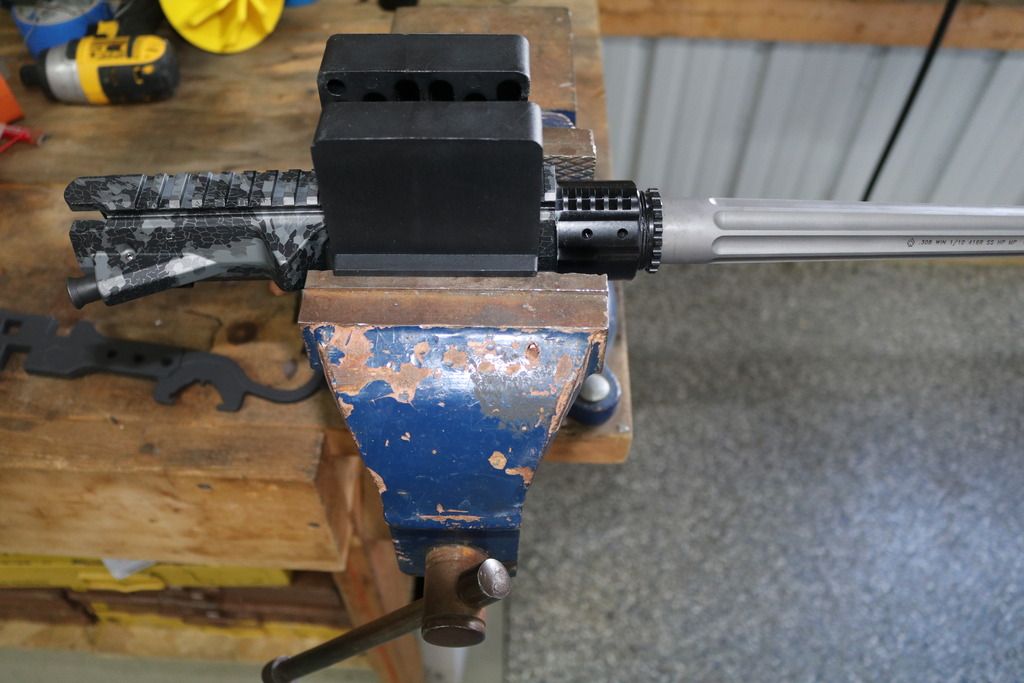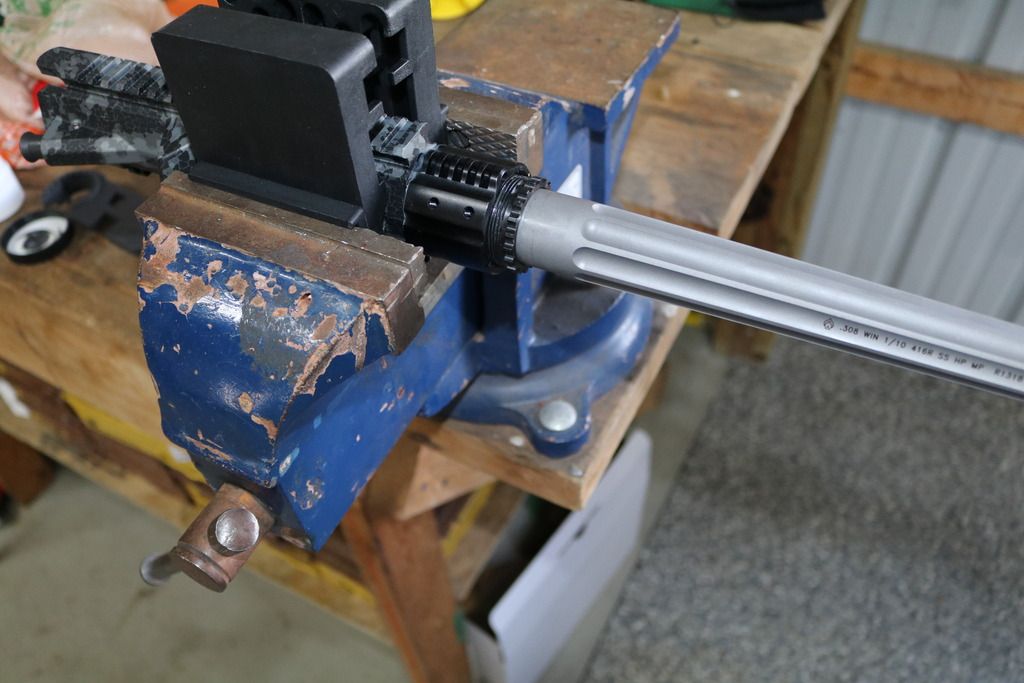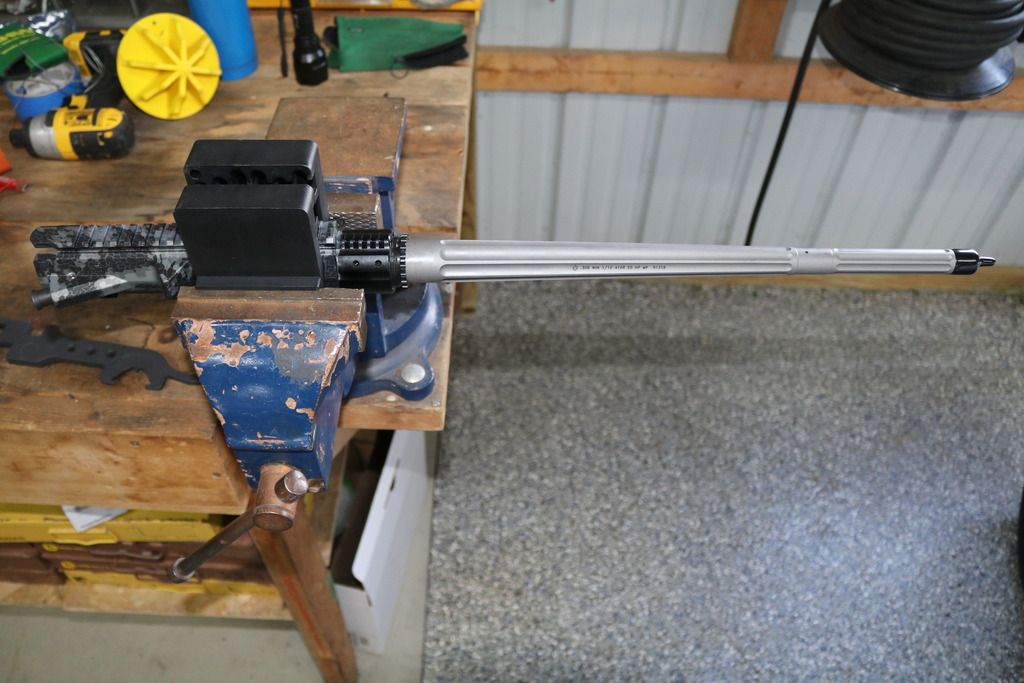 * Don't laugh at my vice (or do, I don't care). I think it was cast by blind children in China after their bedtime one night and then they slapped on some auto body filler and painted it to make it look nice. Obviously the filler hasn't held up to years of doing what you do to stuff in a vice.

After the barrel went on without drama I attached the gas tube and gas block. Used some tips from YouTube videos to make sure the block was aligned correctly with the gas port and spaced correctly. Pinned the tube to the gas block without incident using a simple roll pin starter I made from a small lag bolt with the threads ground down and end flattened and then a hole drilled in the end. Love $0 tools! Thanks to whatever YT video showed me that tip.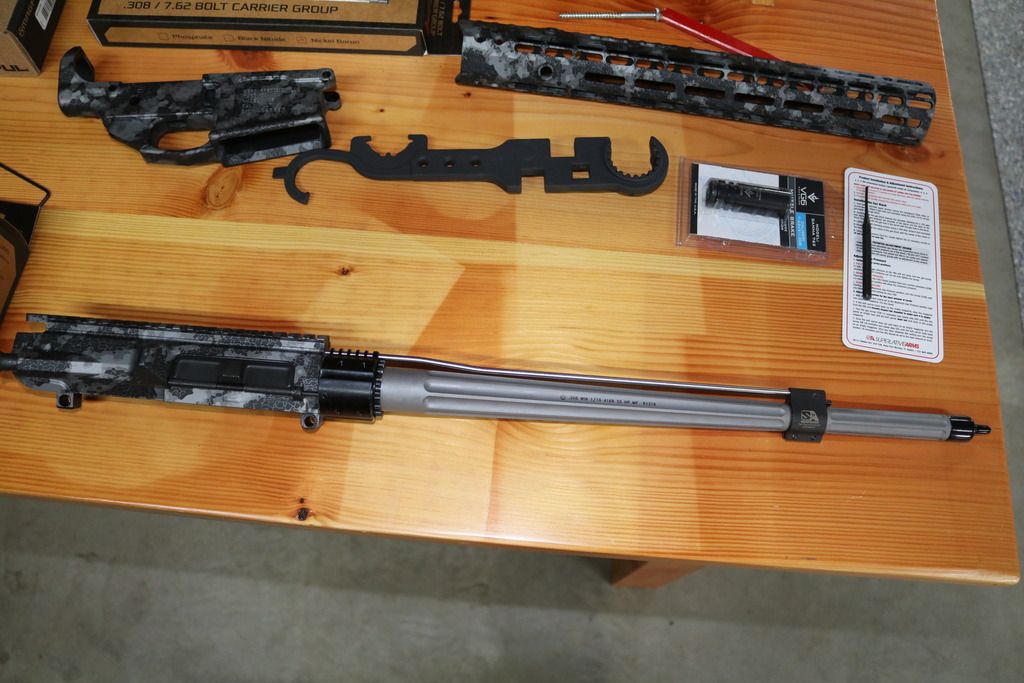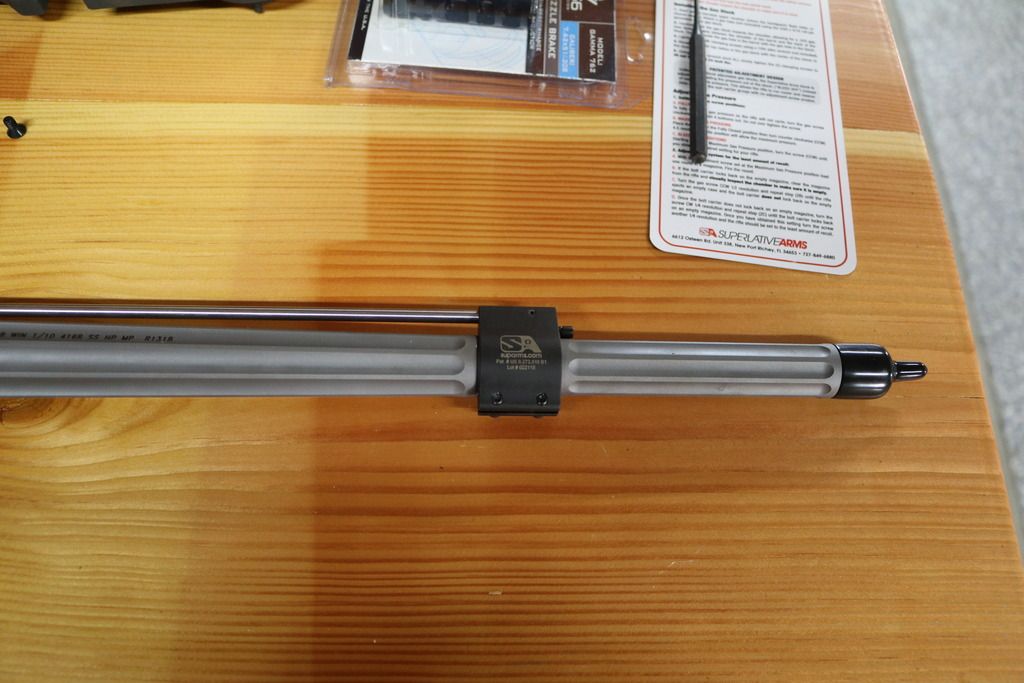 And then the free-float handguard bolted up very quickly. No alignment needed.
Next it was back in the vice for the muzzle device. This went on simply but I have a question about it that I'll add in a following post.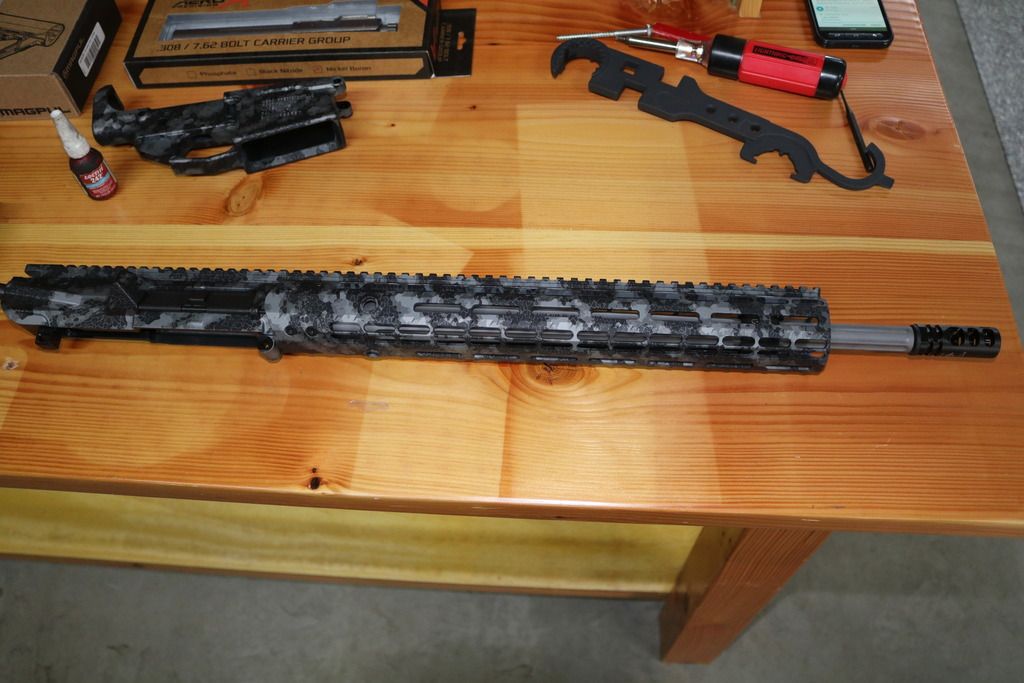 Time to move on to the lower now. Opened up Aero's enhanced lower parts kit and tried to figure out what every part was. Didn't manage to figure them all out so I just started putting stuff together. Another good YT video made this easy.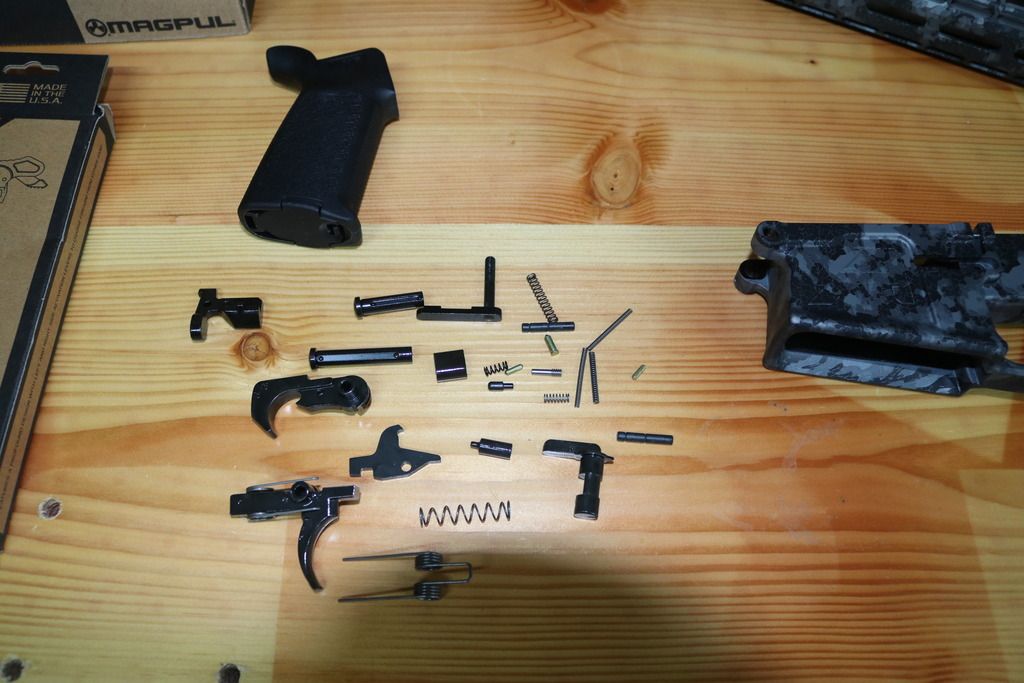 First up was the mag release:
Then came the trigger parts, safety and retention pins for the pivot and takedown pins. Plus the grip.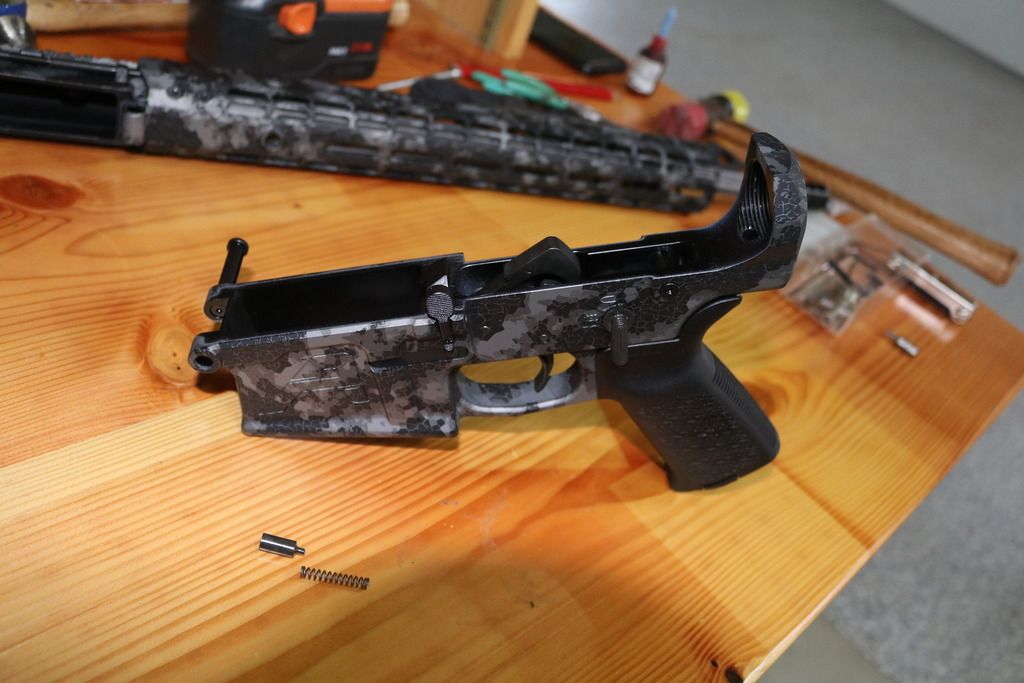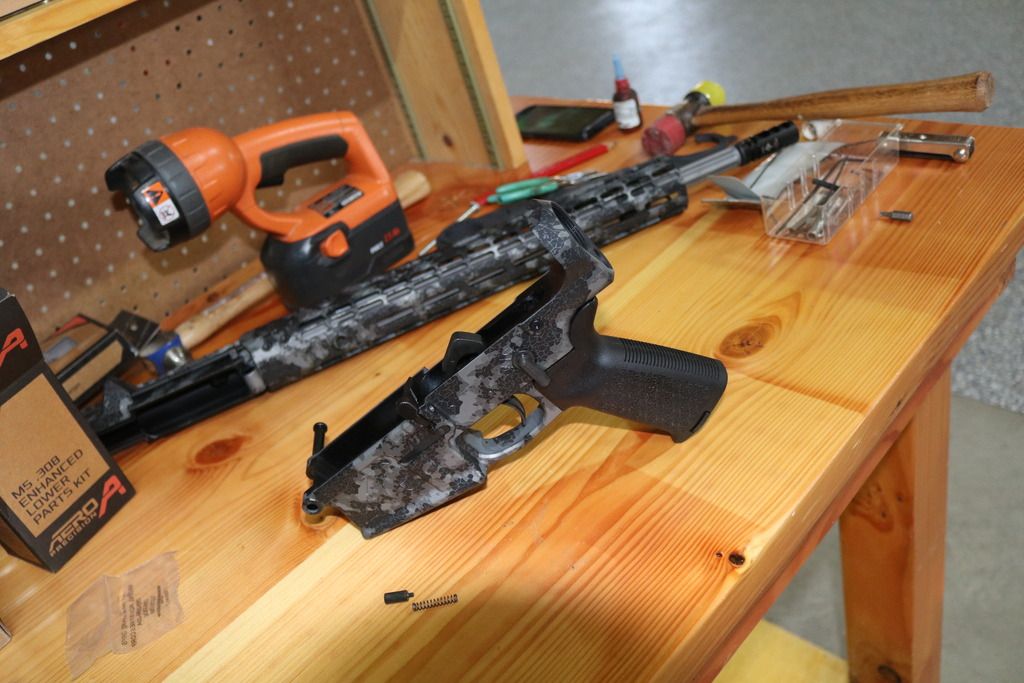 Followed by the buffer tube, stock, buffer retainer and buffer itself.
Not much left at this point. Just had to put the charging handle and BCG into the upper and pin the upper to the lower. Look, a complete toy!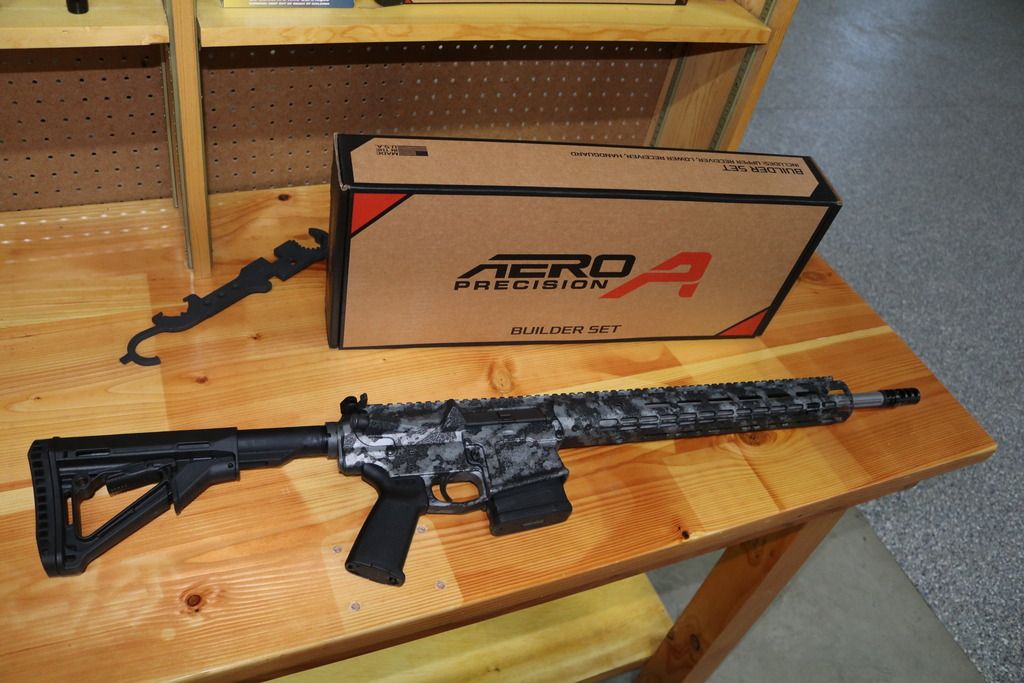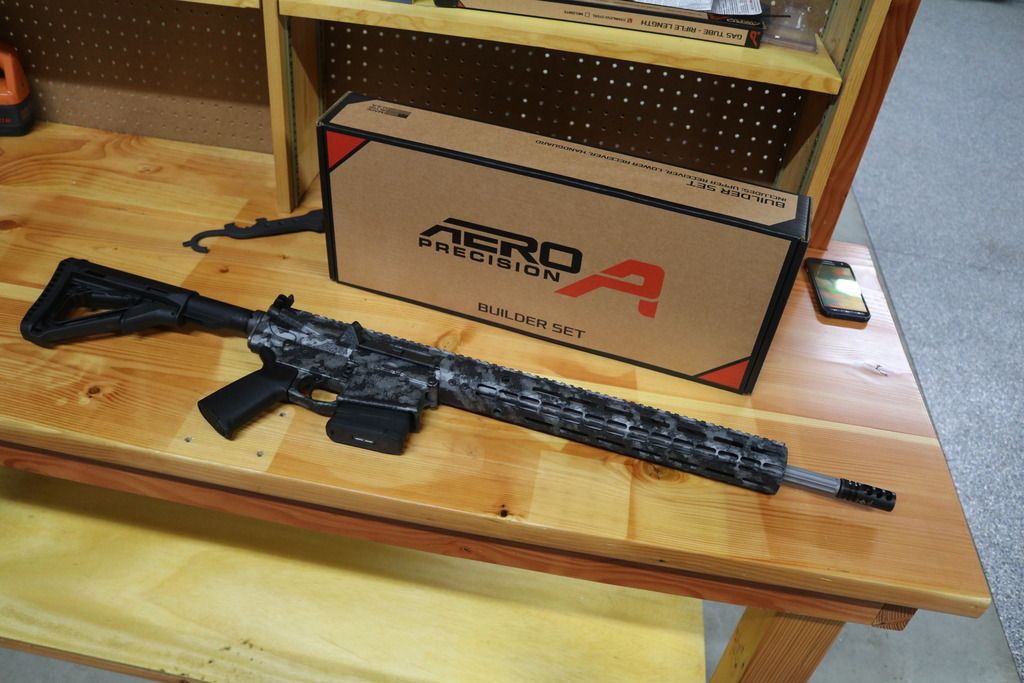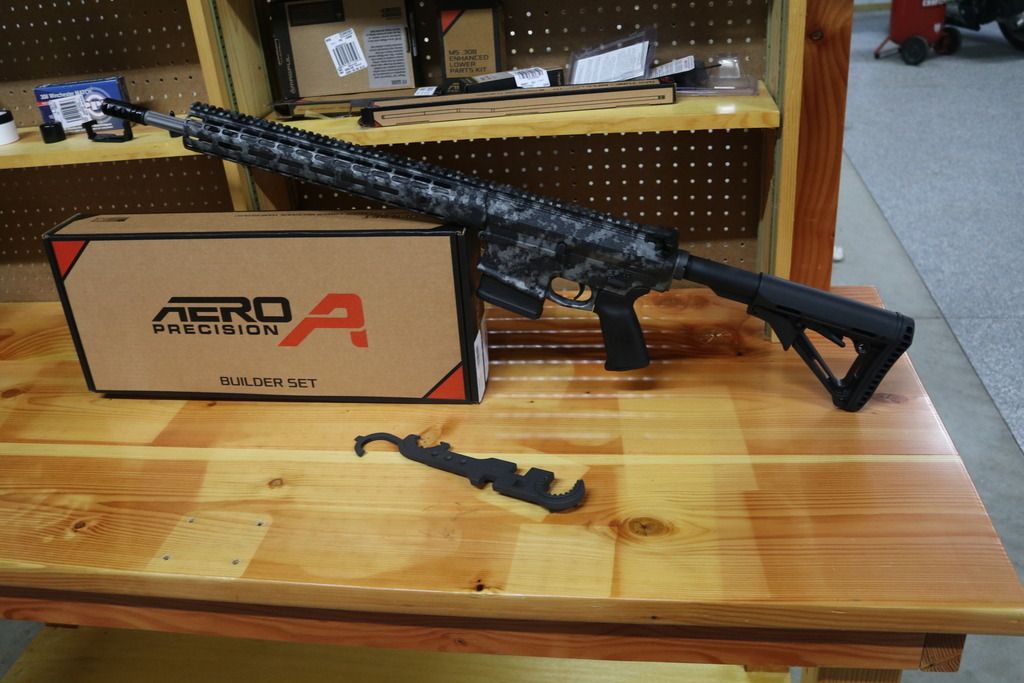 Thoughts to follow...